OCTOPUS v1.11 RELEASED – MORE THAN 20 CHANGES
My dear users, I'm happy to announce, that I have released the newest version of Octopus. There are more than 20 changes and fixes, which hopefully increased the stability and usability of Octopus as well. There are changes inside Octopus Manager, as well as inside the Command Editor and a new menu has also been added to the list called, Layout and Shape, where you can modify your button appearance and layout of the buttons. Inside the Command Editor new features has been added, which modifies the Spinner behavior in certain cases.
To download the new version you can go to the My Downloads menu (must be signed in), or you can go to your profile on the top left hand corner, then click on the eye right to your product. 
Before start using the new version of Octopus, please backup then re-save your already created menus. The installer will overwrite the existing ones.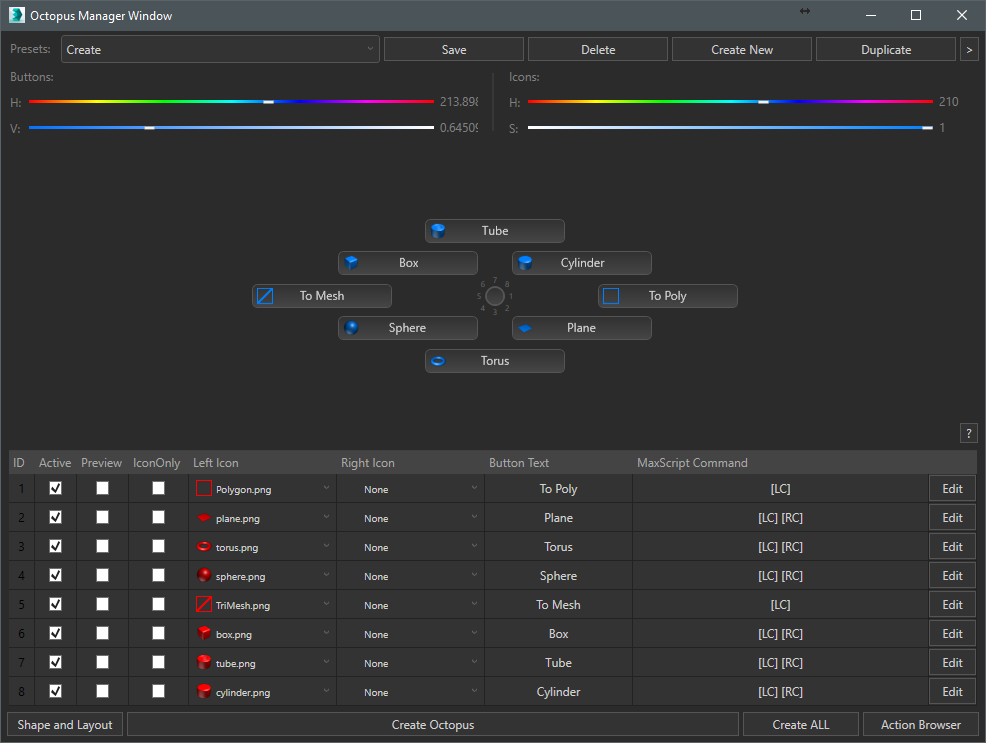 Change Log:
– FIX – Separator now working properly on Action Browser Header
– FIX – When escaping Octopus button changes back to text from value
– FIX – Octopus now stays in memory even if garbage collection occurs
– FIX – Menu scrollbar flickering removed when resizing
– NEW – Now button animation occurs when right clicking on a spinner
– NEW – While in spinner mode, all not used buttons go hidden and returns after action occured
– NEW – Mouse Wheel mode can be simualted by holding down the SHIFT key
– NEW – Icons can be added to the list by drag and drop
– NEW – Octopus presets can be added to the list by drag and drop
– NEW – Button to go to Octopus settings folder
– NEW – Button Layout settings added
– NEW – "Create All" button creates all presets with a simple click (RUN before using new version)
– NEW – Icon Only mode
– NEW – Small versions of buttons added
– NEW – Command Editor has new features to modify spinner behaviour on each axis
– NEW – Adaptive Screen/Object size scale ratio based spinner values added (Spinner)
– NEW – Stepping added (Spinner)
– NEW – Sensitivity added (Spinner)
– NEW – New Icons added
– NEW – CREATE Octopus menu added
– CHANGE – Octopus Manager Window now has a simplified layout
– CHANGE – Octopus preset file structure has changed (please REFRESH)
– CHANGE – Licensing has been modified, so now it's not necessary to stay on the same network to use Octopus
https://www.youtube.com/watch?v=Xm34ZDKaF3chttps://www.youtube.com/watch?v=cjFgiif2Yp0https://www.youtube.com/watch?v=yn_KxkUy2-whttps://www.youtube.com/watch?v=Bzifkj4-MWIhttps://www.youtube.com/watch?v=w-Hv12VczjI