OCTOPUS 2.0 – BETA RELEASE
Octopus 2.0 – New Features
Hello everyone! :)
I'm insanely happy to announce the newest version of Octopus which has several new features implemented. Most of them make Octopus much easier to use. :)
Octopus flash makes it possible to REPEAT LAST action instantly, without having to find the button you pressed. Just hit the hotkey of your menu, and it will repeat the last action, with the parameters you used before that.
Now all the menu buttons can be used in 4 ways. You can use them with both left and right click in single click and spinner mode as well. If you just hit the button it will trigger the single click action, or if you hold down your mouse button, it will turn into a spinner. You can set up the delay for yourself.
Many of you has asked me to have more buttons under a single Octopus, rather then this (you may gonna like it or not) I have created a much reliable solution, called Octopus Friends. Using Octopus friends now you can set up two additional Octopus menus under a single hotkey, and you can swap between them using  your mouse wheel. This way you can bind 96 different action under a single hotkey. 
I have also created a cheat sheet, which you can use to understand what are these feature,
and how you can use them. Also I was rethinking the entire menu Settings menu, added the possibility to copy and paste different settings between your mouse, as well as added the possibility to save your button styles, so you can paste the value onto your new menus.
Also I have created a new design for the Manager system which fits a bit better for Octopus. I hope you will like it. :) If you have any issues with that, don't forget it's a beta version, so if you experience anything unusual, just please write me an e-mail! Thx! ;)
Of course you can download Octopus 2.0 Beta from your profile, or from here:
[MY DOWNLOADS]
Don't be surprised! I have created and .exe installer which needs admin rights!
License activation can be done from 3dsmax under the Octopus top menu bar!
Fixes
There are many many fixes in this release, most of them are performance and stability related. About compatibility, I have made most of the tests, using 3dsmax 2016 – 2020.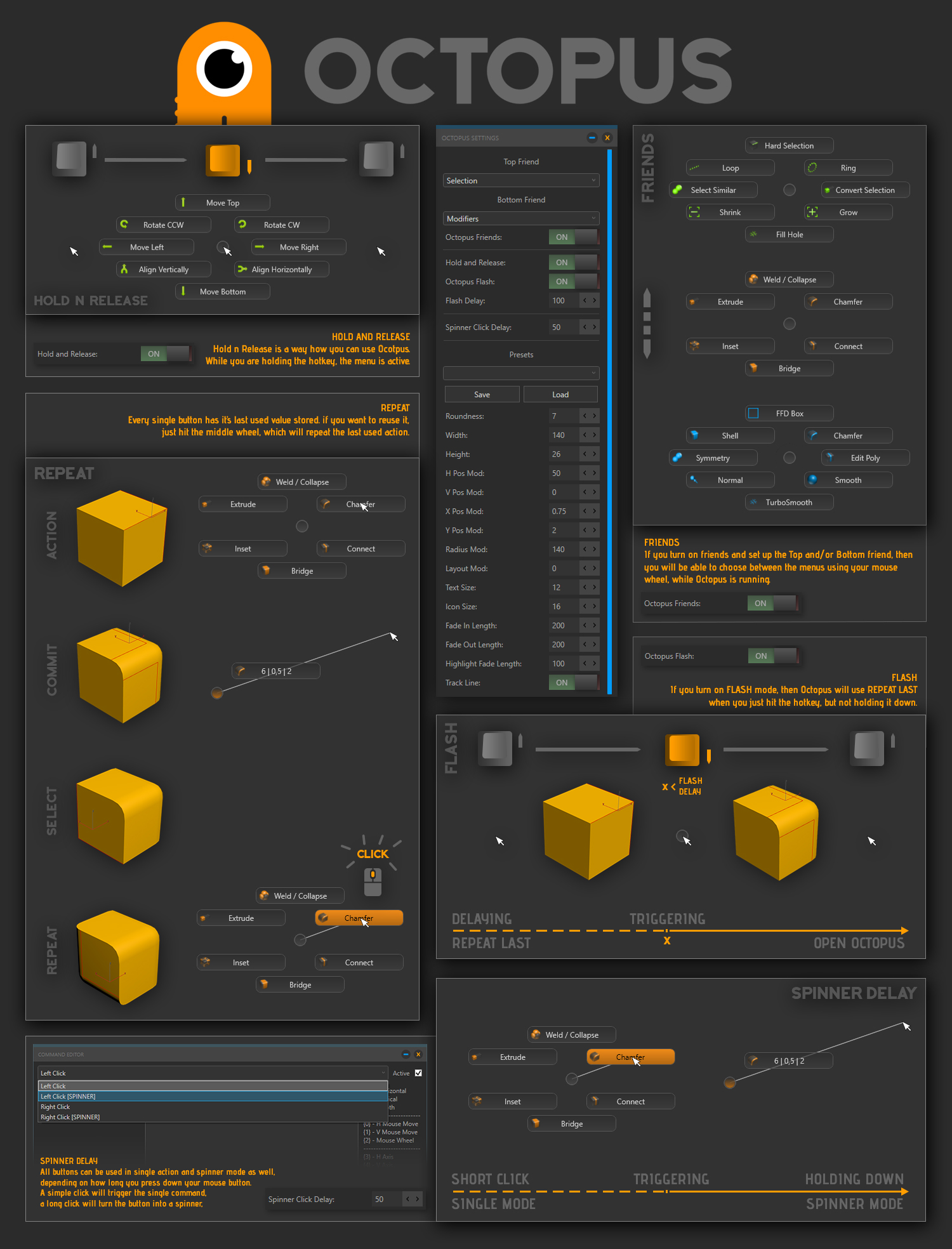 Future Plans
Since Octopus now has many many features, I think it has become mature enough :) There are a couple of things which I still want to put into the new future releases, like stacked repeat, or a better, drag and drop based maxscript editor. Also I have in my plans to create a more tighter integration with 3dsmax, also a bit of exposure to create your extensions for Octopus. But I'll tell about more of these things a bit later.
Now I'll dive a bit more deeper into the 3dsmax SDK to write a fancy new Unwrap UVW extension, but before that I'm going to make new videos and cheat sheets, so everyone will be able to get a bit more familiar with Octopus 2.0.