Octopus v1.20 – RELEASED
License Activator via Proxy
Rapid Tools Product Activator now has a new field called "Use Proxy Server". This field now let you use a proxy server to reach the license server. I have got recently a couple of e-mails where users wasn't able to activate their licenses due to country firewalls. (Beijing, Sao Paolo). Now people, who wasn't able to activate their license, have the optional field which they can use to activate their product by bypassing the firewall this way.
The field is optional, if you leave it blank, the system will use direct access.
Website https://www.proxynova.com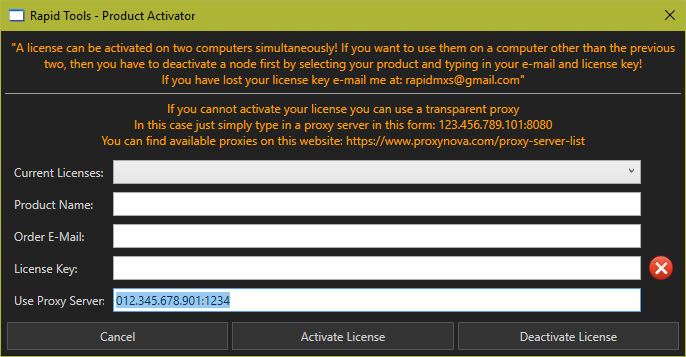 Octopus Presets Backup
Now you can make a backup from your Octopus Presets quickly. With this, you can save all your Octopus Presets with just a few clicks by selecting the menu and a folder from the popup menu. This way you can save your already defined Octopus Preset Files.
Also bringing back your files is pretty simple. Just select and drag n' drop into the manager and then select the Create All Octopus from the File menu.